Sixitalia Weekly Info Page - Aug. 16 - 22, 2016
Sixitalia Weekly Info Page - Aug. 16-22, 2016

Daily Report (Opening reported in Italy, and some interesting reports from EU and North Africa)
Pse send any update to: Questo indirizzo email è protetto dagli spambots. È necessario abilitare JavaScript per vederlo.
---
To realize this Bullettin Sixitalia use news (except when clearly indicate) extract by (in alphabetic order): 425dxn, 50 MHz DX News by OZ6OM, ARRL DX bullettin, Dxcoffe, DXitalia DXnews by I2MQP, DXNL, www.dx-world.net, Got6 by N8OFS, ICPO, MMMonVHF, OPDX, www.rudius.net & 70mhz.org.
Aug. 15 - Morning: Es: CT, PA, ON, G, OE, OH, OJ0, EA. Afternoon: Es: EA, CT.
Aug. 16 - Morning; Es; G, OJ0, DL, LA, Evening: Es: LA, G, SV.
Aug. 17 - Morning: Es: SV, Afternoon: Es: EI.
Aug. 18 - Morning: Es: OJ0, SM, OH, 5B, LA, G.
Aug. 19 - No reported opening today.
Aug. 20 - Morning: Es: SM, OZ, G, 4X, 5B. AfterNoon: Es: EA, CT.
Aug. 21 - No reported opening today.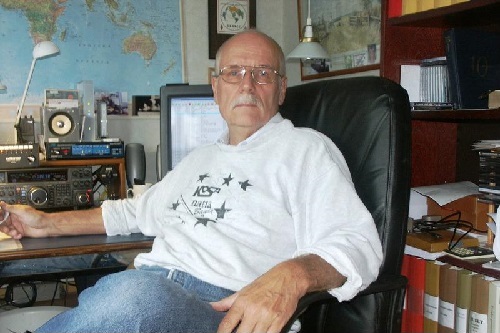 SM4EMO, Kenneth
3B8 - Mauritius - 22.08.16
Bernie, ZS4TX, will be active as 3B8TX from the northwest coast of Mauritius [LG89sx] between September 16-19th, as part of a short visit to the island and a 6m EME DXpedition. The callsign 3B8TX was allocated by ICTA. Bernie states, "Mauritius is not rare in Europe on 6m. My operation will favor NA/SA moonrise and ZL/VK mooonset.
Please send me an E-mail for any special time/sked that may not be covered in the proposed time frames. I will also be running a beacon during the daytime looking for possible Tropo openings towards Africa. Equipment:
IC-7100 and 6M8GJ. QSL via LoTW (preferred) or direct to his home callsign.

7P - Lesotho - 22.08.16
Pista, HA5AO, will operate as 7P8AO from Lesotho between October 15-29th. The primary purpose of the trip is to deliver humanitarian aid and support to an orphanage. At his own expense Pista is supplying clothing, shoes and school supplies to the children. This will be his third visit to Lesotho to work with the children. When not at the orphanage, Pista will be operating mainly CW, on 80-6 meters. Log search and OQRS will be available on <www.ha5ao.com>. Please QSL to HA5AO.
GM - Schotland - 20.08.16

The UK Islands Group will be active as MS0UKI from the rare Treshnish Isles (EU-108) on 3-6 September. The team includes EI5GM, EI6FR, EI9FBB, G0VJG, MM0LID and MM0NDX; they have been granted permission to overnight on the island of Lunga, and will have up to four stations active on 40-6 metres. Logsearch and OQRS on Club Log; traditional paper cards should be sent direct only to M0OXO.
The logs will be uploaded also to LoTW. More information can be Found on https://eu108.wordpress.com/.

HB0 - Liechtenstein - 22.08.16
Operators Kasimir, DL2SBY and Henry, SP2FOV, will be active as HB0/homecall from Liechtenstein between September 11-18th.
Activity will be on 80-6 meters using CW, SSB and RTTY. They plan to use different antennas, Spiderbeam, verticals and a Delta Loop. Their equipment will be TS-2000, FT-900AT and amplifier ICOM 1010 with about 700 watts. QSL HB0/DL2SBY via DL2SBY, direct or the OQRS (Bureau/direct) via ClubLog ONLY. Do not send your QSL via the Bureau! QSL HB0/SP2FOV via SP2FOV, direct, by the Bureau, LoTW or ClubLog.
HL - South Korea - 20.08.16
The Gwangju DX Club (6L0NJ) will be active as D73G from Kogum Island (AS-060) on 24-26 August. Plans are to operate CW, SSB and digital modes on 80-6 metres. QSL via HL4CEL.
J6 - St. Lucia - 22.08.16
Bill, K9HZ, will once again active as J68HZ from his villa at Labrelotte Bay, Castries, St. Lucia (NA-108) between August 26th and September 11th. Activity is usually on 160-6 meters using CW, SSB and RTTY. He states, "Will try to fill some band-mode slots for WAS and DXCC. Particularly looking for AK and MT in the USA to complete 8BWAS." His equipment will consist of an Elecraft K3, a 3 element beam for 20-6 meters and wire antennas for 160-30 meters. QSL via his home callsign. He does use the LoTW, ClubLog and eQSL.
JA - Japan - 20.08.16

Look for JA4GXS/4 to be active from Kasado (AS-117) on 27 August.
He plans to operate CW and SSB on 40, 20, 17, 15 and 6 metres. QSL via JA4GXS, direct or bureau.

VP9 - Bermuda - 22.0816
Jeff, VA3QSL, will be active as VA3QSL/VP9 from Bermuda (NA-005, WLOTA 0201) between August 31st and September 8th. Activity will be holiday style on 40-6 meters using CW,SSB and the Digital modes. QSL via his homecall, by the Bureau, direct (see QRZ.com) or LoTW.
YX0 - Aves Is. - 22.08.16
Steve, W4DTA/YV5DTA, announced that his "group (ARV, Asociacion de Radioaficonados de Venezuela) back in Venezuela got an invitation by the Navy to activate YV0 (Currently the #18 most wanted in the world). A team of 14 operators will depart on August 27th and operate as YX0V for 7-10 days. The team is planning to be active between August 28th and September 5th. Activity will be on all bands (HF/VHF) and modes (CW, SSB, the Digital modes, FM and Satellites). Steve, W4DTA, will be the QSL Manager for the operation.
ATTENTION SATELLITE OPS!!! Paul, N8HM, reported on Thursday, August 18th [edited]: The next several weeks should be very exciting for satellite users across North and South America as well as Europe. Starting tomorrow, the CY9C DXpedition will be QRV from St. Paul Island with great footprints across Europe and North America and it was announced last night that the YX0V DXpedition to Aves Island, scheduled (sometime between) for August 31st
- September 10th, will include satellite operations as well [See the AMSAT WEB page: http://www.amsat.org/?p=5436 ]. The Caribbean location and flat island terrain should provide excellent footprints across North and South America.
Steve, W4DTA/YV5DTA, sent out the following update on August 20th:
Hello all.. YX0V team both in YV and here in the USA have been working almost non top! A big FEDEX package was send to Caracas today with shirts, basic supplies and a new antenna analyzer, hopefully it will arrive in time.
The team is now working on a contingency plan for power. At the moment there is only one power plant working in YV0, so there are periods of black outs mostly during the night. The team is purchasing a new generator capable of running a few stations, so there might be times that not all stations will be on the air. A operating plan should be available to me very soon. The good news Hams around the world have step up with donations, and that is helping defray some of the cost.
More to come, but if you have any questions that you will like me to ask the team, please feel free to email me or call me.
73.... Steve, W4DTA
For more details and updates on the YX0V DXpedition, see the following
URLs: YX0V Web site: http://yx0v.com
Twitter: https://twitter.com/yx0v2016
Facebook: https://www.facebook.com/groups/yx0v2016
ADDED NOTES: Tom, W5KUB, hosted an Amateur Radio Roundtable on August 16th, which contains a converstaion with W4DTA/YV5DTA about the upcoming YX0V operation. The video can be viewed on YouTube.com: https://youtu.be/CSTYx2pvBW4?t=1757
Also, watch short videos on YouTube.com at: https://www.youtube.com/watch?v=CjGsEFKXVwk&feature=youtu.be https://www.youtube.com/watch?v=6uV89vEuwRM
ZF - Cayman Is. - 22.08.16
Bill, W5SJ, will once again be active as ZF2EZ from Grand Cayman Island (NA-016, WLOTA LH-1042) between September 27th and October 1st. Some operations will be from the "Cayman Amateur Radio Society" (ZF1A) club station and some from the QTH of Andrew/ZF1EJ's shack. Activity will be on the HF bands and 6 meters. QSL via W5JAY.