Sixitalia Weekly Info Page - Mar. 14-20, 2017
Sixitalia Weekly Info Page - Mar. 14-20, 2017

Daily Report (Opening reported in Italy, and some interesting reports from EU and North Africa)
Pse send any update to: Questo indirizzo email è protetto dagli spambots. È necessario abilitare JavaScript per vederlo.
---
To realize this Bullettin Sixitalia use news (except when clearly indicate) extract by (in alphabetic order): 425dxn, 50 MHz DX News by OZ6OM, ARRL DX bullettin, Dxcoffe, DXitalia DXnews by I2MQP, DXNL, www.dx-world.net, Got6 by N8OFS, ICPO, MMMonVHF, OPDX, www.rudius.net & 70mhz.org.
Mar. 13 - No reoprted opening today. CT had some Tep with ZD8/LU.
Mar. 14 - No reported opening today.
Mar. 15 - No reported opening today.
Mar. 16 - No reported opening today.
Mar. 17 - Afternoon: Tep: TU7C worked in I8 area and SV, EA, CT.
Mar. 18 - Afternoon: Tep: TU2C (it9 area).
Mar. 19 - No reported opening today.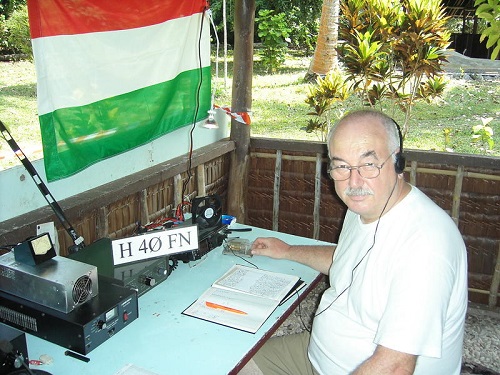 H40FN, Sigi, active until March 24th 2017.
DU - Philippines - 18.03.17

Marc, ON5SM will be active again as DU9/ON5SM from Cagayan de Oro on the island of Mindanao (OC-130), Philippines from 4 April to 24 May. He will operate SSB, digital and SSTV on 80-6 metres. QSL via home call, direct or bureau. He will not use LoTW or Club Log.
J6 - St. Lucia - 20.03.17

Bill, K9HZ, will once again be active as J68HZ from his villa at Labrelotte Bay, Castries, St. Lucia (NA-108, WLOTA L-1336) between April 1-8th. Activity is usually on 160-6 meters using CW, SSB and RTTY.
He states, "Will try to fill some band-mode slots for WAS and DXCC. Particularly looking for AK and MT in the USA to complete 8BWAS." His equipment will consist of an Elecraft K3, a 3 element beam for 20-6 meters and wire antennas for 160-30 meters. QSL via his home callsign. He does use the LoTW, ClubLog and eQSL.


J8 - St. Vincent - 20.03.17

Brian, GW4DVB, will once again be active as J88PI from Palm Island (aka Prune Island, WW Loc. FK92HO, IOTA NA-025), in the St. Vincent and the Grenadines Island group, between April 12-23rd. Activity will be on 40/20/17/15/10/6 meters SSB only using an Elecraft KX3 and KXPA100 Power Amp (100w) into a 10m vertical antenna and a M0CVO HW-40HP off center fed dipole. QSL via GW4DVB, by the Bureau or direct to: PO Box 20:20, Llanharan, Pontyclun, Wales - UK CF72 9ZA. For more details and updates, check: http://www.g4dvb.co.uk


OJ0 - Market Reef - 20.03.17

Jean-Paul, ON2KMJ, Ronald, ON5TQ, Mike, ON6QO and Peter, ON8VP will once again be active as OJ0V from Market Reef (EU-053)
between July 1-7th. Activity will be on 80-6 meters with two stations on the air using CW, SSB and the Digital modes. QSL via ON5TC, direct or by the Bureau. Log will be uploaded to ClubLog during the DXpedition if they have a connection to the internet or as soon as they return back in Belgium.